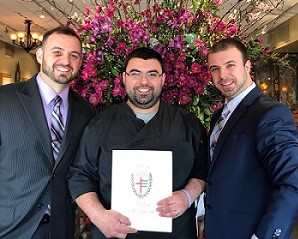 Giorgio Meriggi, Tony D'Arcangelo, and Pasquale Cervera opened Stresa Restaurant over 20 years ago in Manhasset, New York. The three came from long and distinguished careers in the restaurant industry, including working amongst the masters of Italy, France, Switzerland, and Belgium as well as famous Manhattan restaurants Le Cirque and Quo Vadis.
The three have also enjoyed success together as restaurateurs: past ventures over the years include Navona in Great Neck, Il Tulipano in Huntington , Gubbio in TriBeCa, and Stresa East in Woodbury. Though Cercera retired a few years ago, Meriggi and D'Arcangelo continue to provide Stresa customers with fine Italian cuisine and impeccable service.
Stresa takes its name from a beautiful, historic town on the shores of Lake Maggiore in northern Italy. Originally a fishing settlement, Stresa is now a popular tourist destination renowned for its spectacular landscape and elegant architecture. The town has hosted such cultural icons as Charles Dickens and Ernest Hemingway in their heyday.